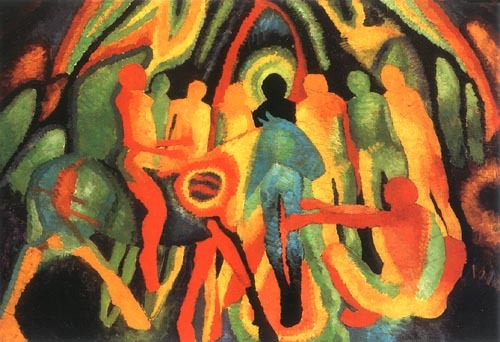 The opening hymn was familiar (to me) and appropriate to the occasion
It was Palm Sunday, 2022, and I stood and sang with gusto. I noticed my three-year-old granddaughter sitting next to me, coloring. At the mention of "children" in the hymn, I picked her up, held her, and began swaying to the music. I whispered in her ear something to the effect that, "This is the story of children waving palm branches as they welcomed Jesus." She was mesmerized. The next song reinforced the message:
I doubt she understood what "pillared court and temple" meant, but she certainly understood children singing to Jesus. Just before the sermon those in the congregation 5 years old and younger were excused for children's worship, where they heard about Jesus' riding on a donkey and were given a xeroxed picture of the story to color. After the service, my granddaughter wanted to show the picture to her grandpa.
As touching as that experience was, it was the offertory that made the biggest impact on my soul. The pianist played "The Palms" by Jean-Baptiste Faure (1830-1914). I didn't remember all the words, but I knew the last two lines:
Tears came to my eyes. Something deep within me, memories of previous Palm Sundays had been gently triggered. My church uses a great deal of contemporary music in worship, which I appreciate. These new songs contain a freshness that is lost when a song is used too often over the years. Praise the Lord. Sing to the Lord a new song, his praise in the assembly of his faithful people, writes the Psalmist (Psalm 141:9). But there is also something rich about singing the songs that have nourished believers for generations. Undoubtedly there were those in the congregation who did not know the two older hymns, or for whom the offertory had no meaning. On the other hand, I was not the only "Seasoned Saint" who was connecting with that piano solo. An older gentleman sitting behind me was humming. The lady in the seat ahead of me was moving her head in time with the music.
In addition to memory, what we were experiencing was the power of ritual. The Dutch Calvinist Church where I grew up did not have all the rituals common in Roman Catholic and mainline Protestant churches. I never heard of "stripping the altar" on Good Friday, and we didn't have a sunrise service on Easter morning. But we had our own traditions. Chief among them was the singing of familiar hymns at specified times during the year. Palm Sunday simply required our singing "All Glory, Laud and Honor to Thee, Redeemer, King."


Ours is a multi-generational church. Grandparents worship with their grandchildren. The Praise Team leads us in contemporary music. The organist plays the hymns. Next Sunday the Easter service will conclude with the "Hallelujah!" chorus from George Frederick Handel's "Messiah." The freshness of the "new song" and the power of familiar rituals. Both are important.


  A multi-generational church is a multi-cultural church. The rich and meaningful traditions that touch the soul of the grandparents often seem meaningless to those who are younger. Singing contemporary songs from words projected on a screen feels like a loss to a tenor like myself who reads music. America is filled with white, mono-cultural churches, catering to just one age group: High Schoolers flock to the hip church down the street that offers their kind of music, accompanied with lighting and smoke machines. The dying church around the corner clings to its organ and hymns. Church is a place where people want to feel comfortable.


A multi-generational church is not always a comfortable place. The congregation faces some of the same challenges as a multi-racial church, including the challenge of experiencing something that is meaningful to others even if it isn't what I would necessarily choose. Multi-racial congregations are quite rare in America. The challenges are too great and often seen as not worth the effort. Perhaps the same could be said about multi-generational congregations. They require a desire to learn from people who are different from us. They require tolerance. They insist that we leave our judgments at the door. Most of all, it is essential that they are places populated by people filled with love, the kind of love the Apostle Paul describes when he writes: Make my joy complete by being like-minded, having the same love, being one in spirit and of one mind. Do nothing out of selfish ambition or vain conceit. Rather, in humility value others above yourselves, not looking to your own interests but each of you to the interests of the others. (Philippians 2:2-4)


Multi-cultural worship is hard. But it is also incredibly rewarding. People of different generations have a great deal to learn from each other. Telling that one story to my granddaughter of Jesus, palms, and children singing enriched my life immeasurably. I also have much to learn from younger generations of believers. I'm eager to discover what they have to teach me.


I want to thank the members of my church who loved those of us who are older so much that they were willing last Sunday to sing a couple of hymns written long before they were born and listen to a classical piano piece as an offertory. Together, young and old, we reenacted the story of the pilgrims entering Jerusalem on the first Palm Sunday: